Following on from my previous gift guide post, this one is for the skincare fanatic. I've created this one so that there are options for all budgets because hyped up skincare can often fall in the premium budget category, and frankly that isn't accessible to everyone. So here's a mix of my high and low skincare suggestions suitable for a mixture of skin types!
REN – Stop Being So Sensitive kit – £22 (Cult Beauty, Fabled, Selfridges, Naturisimo)
I've tried a few things from the REN EverCalm range now, and it's all amazing. It's so nourishing for the skin and is amazing quality. In the UK, REN is not an overly expensive brand, and this little kit gives you a great introduction to the brand. The EverCalm range is their line that targets sensitive skin, but anyone with normal-dry skin can also use it and love it. The day cream will become your new favourite, and their cleansers look absolutely beautiful. I'm pretty convinced that after trying something from this line, you will repurchase the full size.
Emma Hardie Skin Cleansing Kit – £30 (Cult Beauty, ASOS, Marks & Spencer)
If you have never tried the Emma Hardie Moringa Cleansing Balm and have always wanted to, this is a great way to test the product out without shelling out for the £50 full size. Not only do you get the cleansing balm and a super soft cloth (which will change your life), but you also get the Rosehip exfoliating seeds that even out texture and tone the skin.
Fresh Beauty – Masks for Miles – £69 (fresh.com/UK)
If you are a mask obsessive, you will love this gift set by Fresh. This set includes the Black Tea Instant Perfecting Mask, the Lotus Rescue Mask, the Rose Face Mask and the Sugar Face Polish. These are the mini size products that are 30ml each, and if you were to purchase these individually, it would come to £92 (£21 each for Lotus, Rose and Sugar Polish, £29 for Black Tea). So you get a massive saving of £23! You basically get a mask for free which is fab!
Yu Ling – Jade Facial Rollers – £12 (Cult Beauty)
I have been wanting one of these for ages! Rollers have loads of uses, from helping to boost circulation and de-puff the eye areas to eliminating toxins and relieving stubborn headaches. I've seen a lot of people use these rollers over sheet masks to work the essence a little deeper into the skin and to add to the self care element and give yourself a little massage – joining skincare and self-care!
OMOROVICZA – Christmas Intro Set – £65 (Cult Beauty, Space NK, Lookfantastic)
Omorovicza is a super high end Hungarian skincare brand that looks absolutely beautiful, but lets face it, is not accessible to everyone. BUT, this minis set lets you try out a lot of their products and get a good feel for the brand without going bankrupt! In this set, you get the Thermal Cleansing Balm, Deep Cleansing Mask, Cleansing Foam, Elemental Emulsion and the famous Queen of Hungary Mist. The set is valued at £112, so it's pretty good value! If you are someone that likes to dabble in high end skincare but have always been priced out, then here is your opportunity to give it a go!
Sjo Skin – Happy Honey Mask – £42 (Sjoskin.com)
If you spend any time at all on the gram, you will 100% recognise this mask. Beauty addicts across Instagram and the world swear by this and herald it as the best mask out there. This Swedish brand really encourages love and positivity in the beauty community and is one of the nicest, socially aware brands on Instagram at the moment. This is definitely one on my wish list!
Oskia – Deluxe Travel Collection – £55 (Spacenk.com)
Oskia is another one of those brands that look gorgeous and are faves for people in the beauty industry… and they have the price tag to match! I love gift sets for trying out more high end brands as it gives you a great chance to try more products for a really good price. I really want to pick this one up for myself! This set contains Nutri-Active Day Cream, Renaissance Cleansing Gel, Micro Exfoliating Balm, Renaissance Mask and Super 16 Pro Collagen Serum, all in travel size and it comes in a really lovely bag.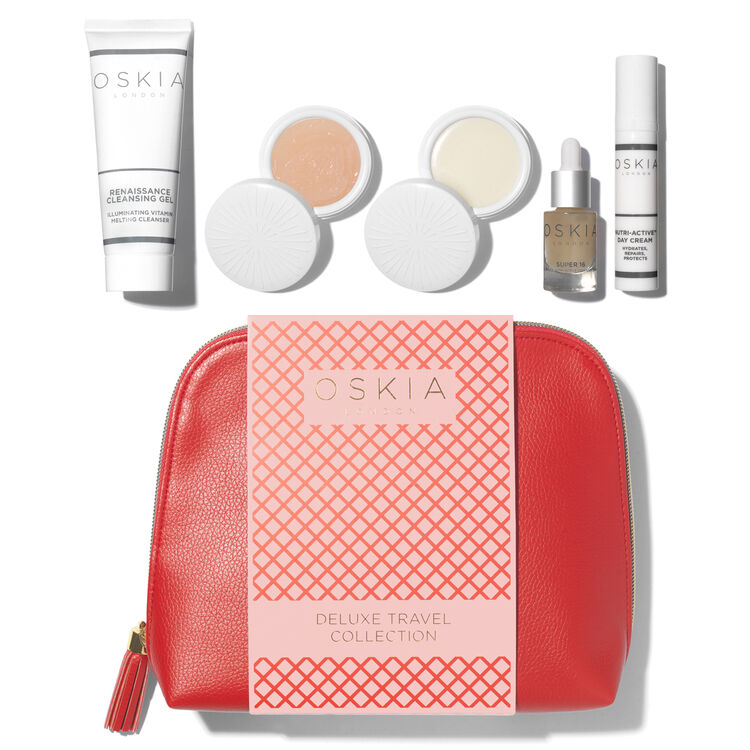 Mario Badescu – The Brightening Kit – £34.50 (Beauty Bay)
Mario Badescu is a really great brand for people with acne prone skin and loved by loads of celebrities. When I had acne, their Glycolic Foaming Cleanser was my go-to product to keep my acne in check and I would always notice it worsen when I didn't use it. I chose this kit specifically because it had the glycolic cleanser, also because it's a brand that I had so much faith in when my skin wasn't at its best. The products in this kit can be used by any skin type, especially the glycolic products and the vitamin C serum.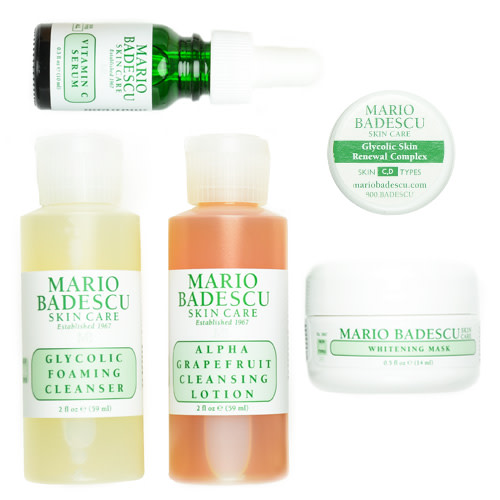 Kiehls – Holiday Skincare Set – £47.50 (Kiehls.co.uk, Selfridges, Feelunique)
If you're a newbie to Kiehls, or are a harcore lover (like me), this is a great gift set for you, your mum, your auntie, your hairdresser, ANYONE. It contains loads of amazing minis to try, including my faaaavourite product ever (Midnight Recovery Oil) which you definitely need in your life. Kiehls' products are so beautiful and high quality, and if you have never tried them before, they are GREAT with samples if you order from them directly. There are a few other sets on the websites for your body and hands, so pick the one that's best for you!
Dr Jart+ – Ceramidin range – £5.50 – £35 (Selfridges, ASOS)
If you are a dry skin babe, then Dr Jart's Ceramidin range is perfect for you. It has been developed for extremely dry skin and whenever you apply anything from them, it feels like your skin is saying 'aaaaaah' with a cocktail in a bathrobe. If you are on a bit of a tighter budget, then the Dr Jart Ceramidin face mask is only £5.50 and will give your skin an instant moisture boost. Alternatively, if you're after a great, fairly thick moisturiser, then the Ceramidin Cream is your gal.
Beauty Pie (beautypie.com)
I know the idea of a subscription service can leave some people cold, but Beauty Pie is exceptional. If you are a self-proclaimed skincare addict, this is definitely something you want to try out. You can cancel your subscription for free after 3 months and you get access to an amazing range of top quality products. The Japanfusion line is heralded as the best one (which I've tried and it is good), but my absolute favourite is the Plantastic Apricot Cleansing Balm.
I hope this guide has been useful for all you skincare fanatics out there! Maybe don't buy anything until Black Friday now, because I'm sure you can get a better deal then! Let me know which skincare bits and pieces you'll be picking up this Christmas!
Xo
Follow me on: