Everywhere you look on social media; there are pictures of beautifully made up women that set unattainable beauty standards for the average girl. It has also started to dictate what we perceive as beautiful. Wearing little or no make up either leads to questions about whether you're okay/ill or applauded as brave for leaving the house in your natural state. Dramatic, full coverage make up has become the norm – not just for special occasions but for every day wear too. Hey, I love full coverage – don't get me wrong – but there comes a point where individuality starts to fade away and uniformity runs rife.  
Enter Ms. Meghan Markle.
Meghan is a truly beautiful woman, and to put that before all her other aspirational qualities does feel somewhat unjust. We all know who she as – as a Brit I've seen her picture non-stop since her engagement to Prince Harry, and in the run up to the wedding her face has graced the cover of nearly every magazine and newspaper in the country.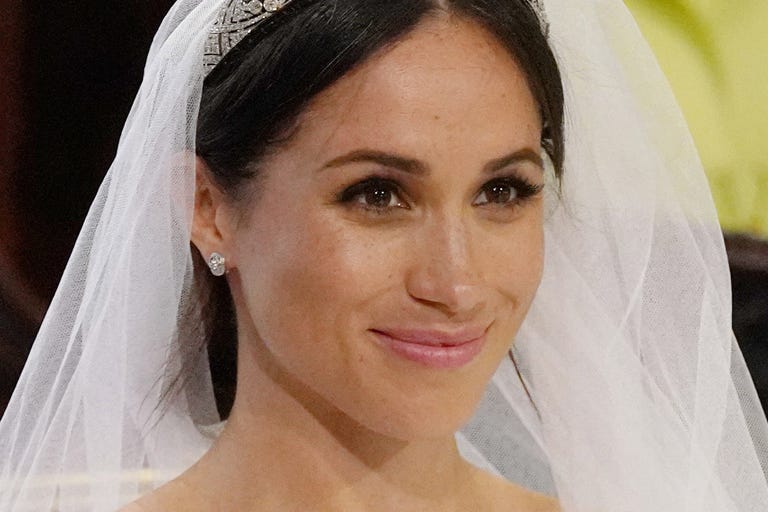 When she stepped out of that wedding car at 11:59am on Saturday 19th May, the world leaned towards their television screen get a better look at her. What is her dress like? What's her make up like? The dress was perhaps simpler than we expected – Meghan is a fashionable woman and known for doing things her way. Many people expected a more edgy gown for the American actress breaking through all the barriers to enter the British royal family. However, you can bet the popularity of that style of wedding dress is about to go through the ROOF. The simplicity of her look didn't end there. Once her veil was lifted in St George's Chapel, her make up was natural and absolutely flawless. Her skin glowed and her freckles were clearly visible. Her lips were not coated in a heavy lipstick or even a gloss, but just looked lightly coloured by a tinted lip balm. There was a subtle smokey eye, but she radiated natural beauty.
                                 THIS. IS. WHAT. WE. HAVE. BEEN. WAITING. FOR.
On her wedding day she made the ultimate statement – She represented exactly who she is with complete disregard for the opinions of the billions that were watching. Did we expect that little makeup? Definitely not. But did we absolutely love it? Hell yeah we did. It only takes one spark to start a fire and I seriously believe that she will be the catalyst to propel the natural beauty trend to the forefront. Freckles are completely normal, but seeing such a high profile celebrity embracing theirs normalises them and sets the example for others. Meghan has spoken out time and time again against photo retouchers and makeup artists who try to cover her freckles, quoting a phrase her father used to tell her – 'a face without freckles is like a sky without stars'. For a long time now, people have been encouraged to cover up their 'imperfections' – anything that means your skin is not a flat, even colour should be hidden. So many women on social media have already come forward siting Meghan's light make up as inspiration to embrace their own skin – myself included. So far this week, I have worn no face make up to show my forehead freckles, and only mascara and light brows. She's not the first person to show off her freckles, and she won't be the last, but what makes her different is that the world watches her and she has an enormous, global reach.
She has the potential to start a beauty revolution. It's time for Instagram make up to step aside. It has had its day in the sun. I'm really hoping that by having such a high profile person (nearly 2 BILLION people watched the wedding) embracing her natural beauty, others will quickly follow suit. I mean, it's already encouraged fellow freckle faces to embrace their own skin, but I think it will go further. Every girl I have spoken to about the wedding loved how understated her make up was – not a single person commented that for such an occasion she should have worn more. We aren't used to seeing it – not on our favourite celebrities or in the mainstream media. We are used to seeing Kardashian contour and Jenner lips (that family basically sets the standard for the female population of the world) and this COULD NOT be further from that. It might only be make up, but her wedding look made a statement. You don't need have a Kardashian contour to capture the heart of a prince.
I love make up. I love applying it, I love playing with it and I love how it makes me look. But, I am also ready for it to be okay for women not to be held to such a high standard of artificial beauty where women feel like they have to contour their face to make it thinner or use lip plumper so their lips look bigger. If Meghan represents anything, it's that you are beautiful exactly as you are. She embraces what makes her unique and absolutely rocks it. 
… and, y'know, she had the entire world saying how beautiful she was. No big deal.
Xo
Follow me on:
Instagram|Bloglovin|Twitter|Pinterest